---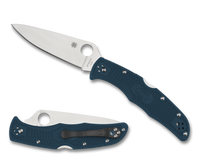 In 1990 Spyderco shook things up by introducing two knives, the Delica and Endura. First of their kind on the market, both folders opened up the knife market to lightweight performance, one-hand open pocketknives that just about everyone could afford. They settled as our top two bestsellers and their improvement hasn't slowed since.
We've always taken great pride in our efforts to push the envelope of performance by offering exotic blade steels in our knives. With that spirit in mind, we are proud to offer the Endura 4 Lightweight with a blade crafted from K390. 
Manufactured by Böhler-Uddeholm, K390 MICROCLEAN® is a state-of-the-art cold work tool steel produced by the particle metallurgy process. Its advanced alloy mix was specifically developed to provide the extreme wear resistance and high compressive strength needed in industrial cutting, blanking, and punching operations. Despite its toughness, its exceptionally fine, homogeneous microstructure also makes it readily machinable and easy to heat treat.
Collectively, these qualities make K390 an outstanding blade material for true steel connoisseurs.
Overall Length
8.78" (223mm)
Blade Length
3.80" (97mm)
Steel
K390
Closed Length
4.98" (126mm)
Edge Length
3.44" (87mm)
Weight
3.3oz (94g)
Blade Thickness
0.118" (3.0mm)
Handle
FRN
Clip Position
Ambi
Tip Carry Position
4-position
Lock Type
Back Lock
Grind
Full-Flat