---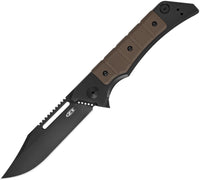 Designed by Tim Galyean, the 0223 takes its inspiration from a classic military knife, but ZT's version is a folder, making it easy to EDC and ready for every task you ask it to take on.
The blade is clip-point style with heavy jimping along the spine and a cutout to decrease weight. CPM 20CV blade steel offers exceptional hardness and wear resistance to take and hold a sharp edge, toughness to resist impact, and—with the highest level of chromium of any high-vanadium steel—excellent corrosion resistance. For an extra measure of blade protection, ZT adds black DLC (Diamond-Like Carbon) coating, ceramic bead blasted for a non-glare finish.
The titanium handle is also DLC coated and bead blasted to extend the matte look. The 0223 has a sturdy titanium frame lock with a hardened steel lockbar insert for reliable lockup. ZT's KVT ball-bearing system, combined with a highly ergonomic flipper, make the 0223 quick and easy to open, too. The 0223's earth brown G10 handle scales are reminiscent of the original military knife's stacked leather handle. Our G10 scales wrap around to the top of the handle and meet in the middle to provide a comfortable and secure grip—as well as helping to keep debris out of your knife.
The pocketclip is left/right reversible and made of bent steel with a black Teflon® finish. The bronze-anodized titanium tube spacer in the handle is secured by two custom screws. A series of decorative holes drilled in the ricasso of the blade echo the jimping along the spine and add to the subtle details of this remarkably handsome knife.
Made in the USA
Manual open, KVT ball-bearing system
Frame lock, with steel lockbar insert
Reversible clip (left/right, tip-up)
Steel: CPM 20CV, DLC coating
Handle: Titanium, DLC coating, earth brown G10 
Blade Length: 3.5 in. (8.9 cm)
Blade Thickness: 0.156 in. (0.4 cm)
Closed Length: 5 in. (12.8 cm)
Overall Length: 8.6 in. (21.8 cm)
Weight: 4.7 oz. (134 g)